Each of us has had an awkward moment while doing things during sex. These awkward things that happened, usually get us more closely connected with our significant half, in a hilarious way. Though sex is an important thing in everyone's life, yet unexpectedly these awkward moments happened. But, we must give credit to all those people who have come forward fearlessly, without any shame and shared their experience boldly with us, rather than keeping it anonymous.
1. Loud Moaner
My boyfriend apparently moans very loudly and one day during sex, he kept moaning and murmuring my name repeatedly. All of a sudden his mom barges in saying "Yes hun…Oh, God! Sorry!"… that's when I realized his mother and my name happened to be the same.
2. Anti-condom
I was seeing this guy, who simply did not agree on a condom usage and during sex, he just happened to remove it without my knowledge. Later on, when I shockingly realized and questioned his calculated action, he said "I love you. I want you to have my child" and surprisingly, it was just our second date.
3. Pancake lover
One of the most awkward things happened during sex with my wife. I unconsciously referred her breasts as pancakes, while licking maple syrup from it.
4. Broadcasting
One day my fiance walks into the house and from the door itself, he starts announcing in high volume the kinky things, he plans to do with me in the kitchen. And to his shock, he saw my mom, dad, and two brothers sitting in the hall, who had dropped by and together, we all had to encounter this awkward moment.
5. Allergic
During sex with my husband, suddenly an awkward thing happened, the pores on his forehead triggered my trypanophobia. Immediately we stopped before I could get a panic attack.
6. The Accused
I happened to notice a piece of toilet paper sprouting out of my girlfriend's behind when we were doing the doggy-style posture. I suffered great pressure, whether to inform her or have it removed quietly, I was simply lifeless. When she got the inclination, she cried and accused me of not finding her attractive anymore.
7. Blew away
When things were getting hotter during sex with my boyfriend, he whispers in a very sensual way "God help me for what I'm about to do." I mistook it as one of those vintage dirty talks and whined liking it and suddenly out of the blue, he blows one of the loudest farts ever.
8. Wrong Baby
While having sex with an ex, he whispered in my ear, "Who's my baby?" And since, I've been very backward with dirty talks, went on to say,"You."
9. Justice prevails
My boyfriend suddenly pulls away from me, while I was giving him oral sex. However, I looked up to see what was wrong, he started yelling "JUSTICE RAINS FROM ABOVE!" and ejaculated all his spunk in my eyes.
Also, read 21 Sex Lies Every Guy Has Told You At Least Once
10. Latecomer
This is the time when I lost my virginity and I also discovered the side effects of my antidepressants, due to which I had difficulty in getting an erection and reaching orgasm. But finally, I got a stand, which went on for so long, which ended with her saying, "Yeah, you should stop now, I'm numb."
11. Milking Away
My boyfriend clips open my bra when I was all sprawled upon him and about to ride. Soon after, he stops kissing and gazes at me smilingly and says "I know this is going to kill the mood… but I feel like I could milk your boobs right now"
12. Gagged-up
With the best intentions of making the moment spicy, I began to kiss my husband from the lips making my way down. All of a sudden, when I was halfway, I started gagging because some of his chest hairs clogged in my throat. Therefore, to keep the momentum, I continued until the end, with all the gagging and swallowing of hair.
13. Shower Fall
I and my girlfriend were getting hot and steamy in the shower until I slipped and fell backward into the shower curtain. The fall hit the back of my head on the toilet seat and the bar of the shower curtain landed on my throat.
14. Flipped Off
I and my husband were just getting intimate when I tried to make a quick position-change, as they do in the movies. While going on to do that, I ended up flipping off the bed and busting my nose open on the floor.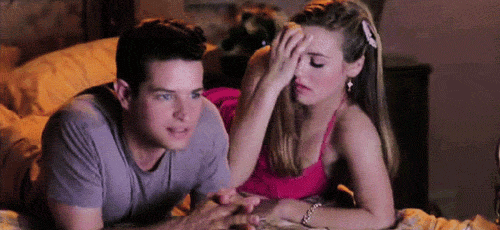 15. Stains
I tried to put on a very sexy act, by pulling my girlfriend's panties down with my teeth. Barely did I expect to be confronted with the mother of all shit stains. Instantly I was gagging so bad that I nearly puked my guts out.
16. Time to Leave
In a party, I happened to meet a guy with whom I had sex and somehow, I passed out in his bed. At three in the morning, when I wake up, he too wakes up and tells me, "You're still here?" I felt so awkward hearing that.
17. Dirty Talk
Sex with my boyfriend was going great guns when he decided to talk dirty to me. He begins to moan loudly uttering the craziest thing, "Just what the pussy ordered" as he entered me.
18. Micro-Man
I was barely on my second date with this guy, when things got out of hand. He pulls down his pants revealing a micro-p3nis and casually smiles at me, proposing me to be his girlfriend. Now, isn't this one of the most awkward things to happen with a girl.
19. Butt Bruised
I was in the shower with my boyfriend, when I tried to warm up things, so I decided to wash his manhood with the loofa. He started to feel ticklish and burst out in laughter causing him to slip. The fall was so intense, that his butt got bruised and I lost a toenail, trying saving the fall.